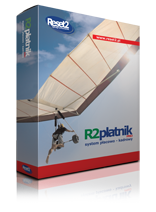 R2płatnikPRO to oparty na serwerze SQL program kadrowo-płacowy. System umożliwia zarządzanie kadrami i strukturą organizacyjną firmy, naliczanie wynagrodzeń oraz automatyczne rozliczenia z urzędem skarbowym i ZUS. Wdrożenie systemu jest łatwe, a program pracuje wydajnie i stabilnie w sieciach komputerowych oraz zawiera zaawansowane mechanizmy zabezpieczające przed nieuprawnionym dostępem do informacji zapisanych w bazie danych.
---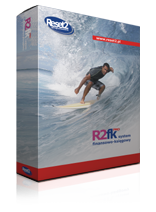 R2fkPRO to system umożliwiający kompleksowe prowadzenie księgowości w formie pełnej księgowości oraz dodatkowo opcjonalnie w formie księgi przychodów i rozchodów bądź ryczałtowej ewidencji przychodów. Zawiera wiele modułów dodatkowych, pozwalających na prowadzenie wszystkich wymaganych ewidencji oraz na pełne rozliczenie firmy i jej właścicieli z urzędem skarbowym.
---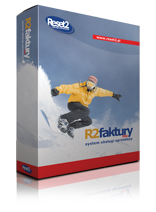 R2fakturyPRO to oparty na serwerze SQL program komputerowy przeznaczony do obsługi sprzedaży i magazynu. Umożliwia szybkie wystawianie faktur oraz ich szczegółowe rozliczanie. Prowadzi magazyn i umożliwia wystawianie wszystkich niezbędnych dokumentów magazynowych (PZ, MM, WZ, RW, PR). Umożliwia rozliczanie płatności przy pomocy raportów kasowych i bankowych. Prowadzi rozrachunki z kontrahentami, pomaga w windykacji należności oraz ogranicza obrót z nierzetelnymi kontrahentami. Umożliwia szczegółową analizę prowadzonej działalności za pomocą rozbudowanych statystyk i definiowalnych zestawień. Sporządza, drukuje i eksportuje polecenia przelewów bankowych. Dzięki modułowej konstrukcji umożliwia dobre przystosowanie do specyfiki obsługiwanej firmy.
---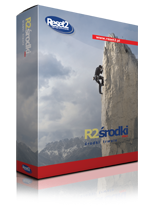 R2środkiPRO to oparty na serwerze SQL system przeznaczony do zarządzania środkami trwałymi. Dzięki przemyślanej strukturze zapewnia natychmiastowy dostęp do pełnej informacji o składnikach majątku trwałego oraz wartościach niematerialnych i prawnych. Dzięki możliwości parametryzacji łatwo przystosowuje się do systemu amortyzacji stosowanego w danej firmie. Automatyzuje proces dokonywania odpisów amortyzacyjnych i odpowiedniego księgowania.
---